Labeling Resources
Labeling is in strong flux, whether you are concerned with front-of-package, vending machines, or menus. A lot of data are required to substantiate your marketing claims such a caloric and nutrition information, but also allergen contents, and consumer interests such as organic, kosher, GMOs, etc. TraceGains offers the ability to connect our supplier data collection (e.g., 100g) to your product lifecycle management (PLM), labeling, and enterprise resource planning (ERP) systems, so that you can avoid laborious and erroneous data double entry, and go to market knowing that your data meet your own and regulatory requirements. Ask us how.
The Nutrition Facts Label Guide
The FDA published two new rules on May 26, 2016 regarding the information consumers find on the back of most packaged foods. To help make these changes more easily digestible for you, we broke them down section by section in this easy-to-read guide.
Menu Labeling Implementation Checklist
Given the amount of information and necessary changes required by the new menu labeling provisions of the Affordable Care Act, organizations that need to adhere to these guidelines should begin preparing now. Download this checklist to get started.
TraceGains Insights Blog
On-Demand Webinars
FDA's Labeling Changes Exposed from the Top Down
Concerned about your facility's ability to comply with FDA's new nutrition facts format ruling? AIB's Donnell Scott, will break down what's different in the label format and how you can make the transition to using it.
How Industry is Responding to the FDA's War on Salt
Jacquelyn Clark of Accenture and Beth Johnson of Food Directions will help you better understand how the FDA's war on salt will affect your company and what your peers are doing to be proactive on the issue.
Prepare Now to Comply with FDA's Nutrition Labeling Changes
Antonio Gallegos of Greenberg Traurig, LLP discusses the FDA's new rules for the Nutrition Facts and Supplement Facts label for packaged foods and supplements.
Menu & Vending Labeling - Are You Prepared? | January 2015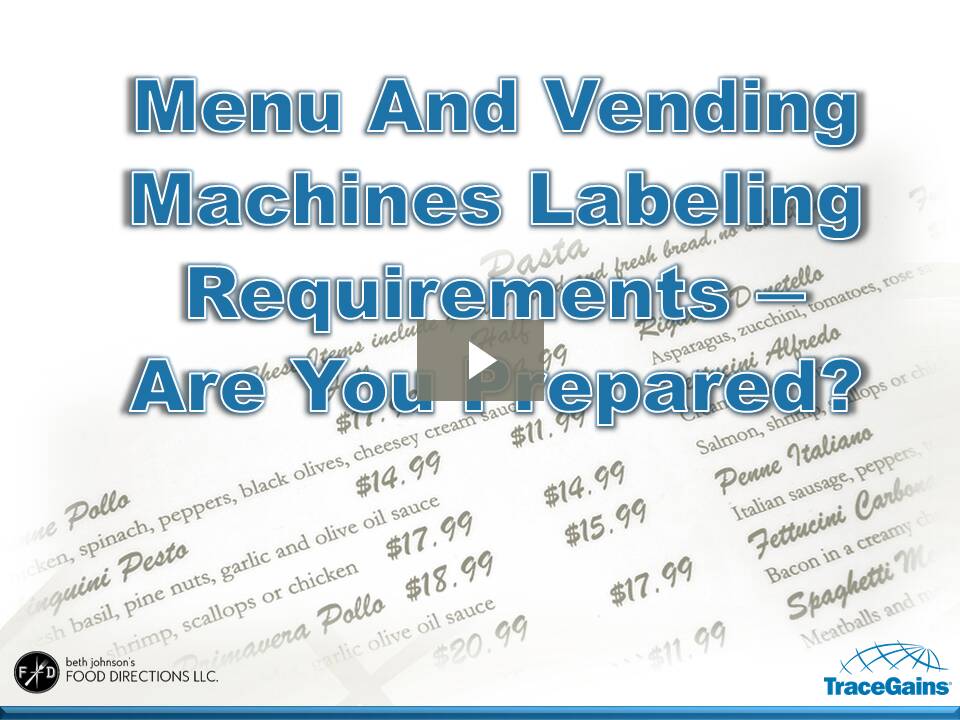 Delve into the FDA's recently released final rules on menu and vending labeling. Download the presentation PDF for expert insight into these new requirements.