Hazard Analysis & Critical Control Points
Risks come from two sources: you introduce them via your supply chain, or you introduce them yourself. Fact is that you've spent at least the last 25 years on managing internal risk via training, education, and well-document best practices. But how do you manage risk in your supply chain? The standard answer is via one-a-year audits (if that frequent) and indemnification clauses in your contracts. Neither is enough to protect your brand, your customers, and the consumer. TraceGains help manage supplier risk by analyzing each supplier interaction with compliance with your business rules—the ones you, not we, decide are important to you. Ask us how.
Implementing a HACCP Plan Guide
HACCP plans are used to determine all the hazards that may occur when producing a product or group of products.
Some of these hazards may be related to personnel, operations, or to the environment and are controlled by GMPs, the operator, or the supplier. Additionally, some hazards might need a new method, a new procedure, or a new machine to eliminate or reduce them.
HACCP is now a requirement for most food companies, and implementation of risk-based HACCP is now a fundamental requirement for all GFSI schemes. HACCP also serves as the foundation for the Food Safety Modernization Act's (FSMA) Hazard Analysis and Risk-based Preventative Controls (HARPC).
So how do you get started?
On-Demand Webinars
Creating an "Approved Supplier Program" as a Prerequisite for a Successful HACCP Program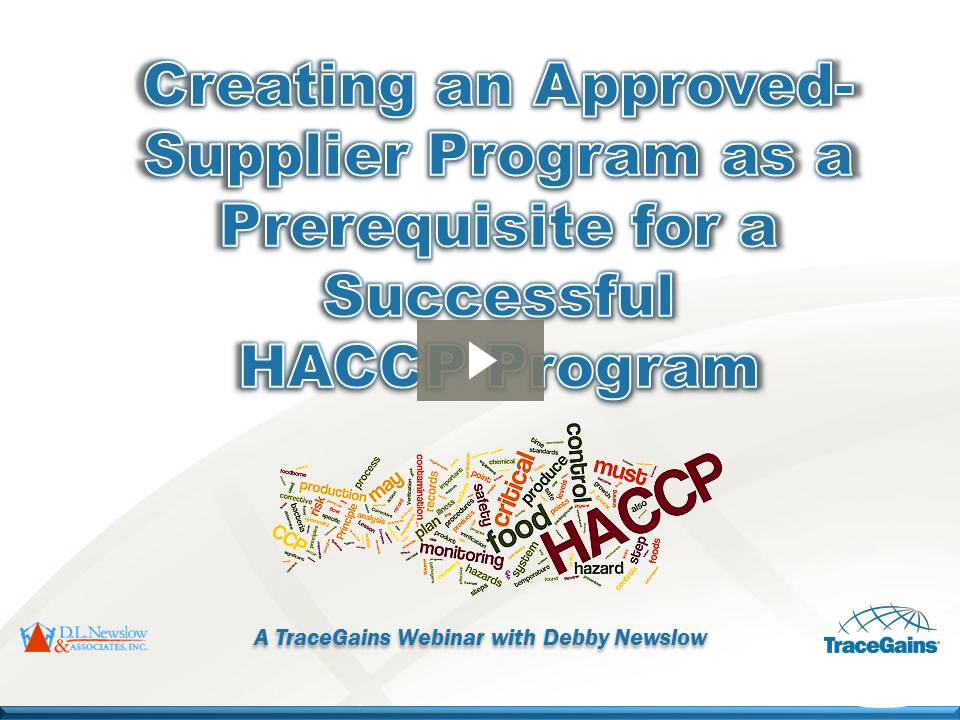 Noted HACCP authority, and winner of the 2013 NSF Food Safety Leadership Award, Debby Newslow shares her expertise. HACCP requires that you identify those suppliers critical to food safety and quality, perform a hazard assessment and define the hazards, identify the potential risk and significance of the hazard, and justify our decision based on facts, scientific information and historical data. Newslow shares how to use your existing supplier data to:
Automatically manage supplier compliance issues
Continuously improve supplier performance
Better manager supplier audits